Introduction
Clans of Ireland commemorates Gaelic traditions, including literature, art, music, government and dress. There has been considerable interest in early and medieval Irish dress among our membership.
The current proposal is intended to address only a desire that Ceannairí and representatives of member clans are offered guidance on possible options regarding ceremonial attire to be worn at individual clan and Clans of Ireland formal occasions.
In no way should it be interpreted as a prescriptive directive. Nor is it envisioned that this proposal is a treatise on Gaelic attire. Please consult source material for more detailed and enlightened information.
Our sources will accompany this proposal, on the Clans of Ireland website.
Historical Summary
Snails, as many little boys and some little girls can tell you, carry their outer covering around with them even on fine days. Those little people have possibly not given much consideration to how slowly and I mean how very slowly snail fashion changes. The design element, including the colour and pattern, of the snail's shell has come about more as a record of its ancestry than as a fashion statement.
You may also be interested to know that the clothing that we humans originally wore is also more a record of our ancestry than the result of any early fashion designer's musings.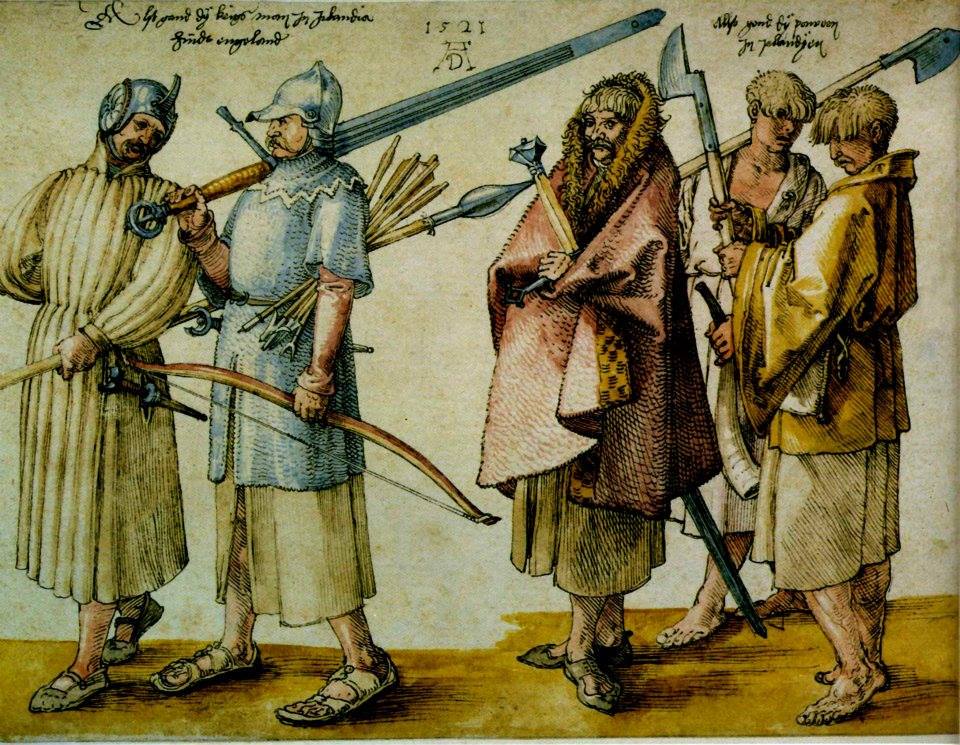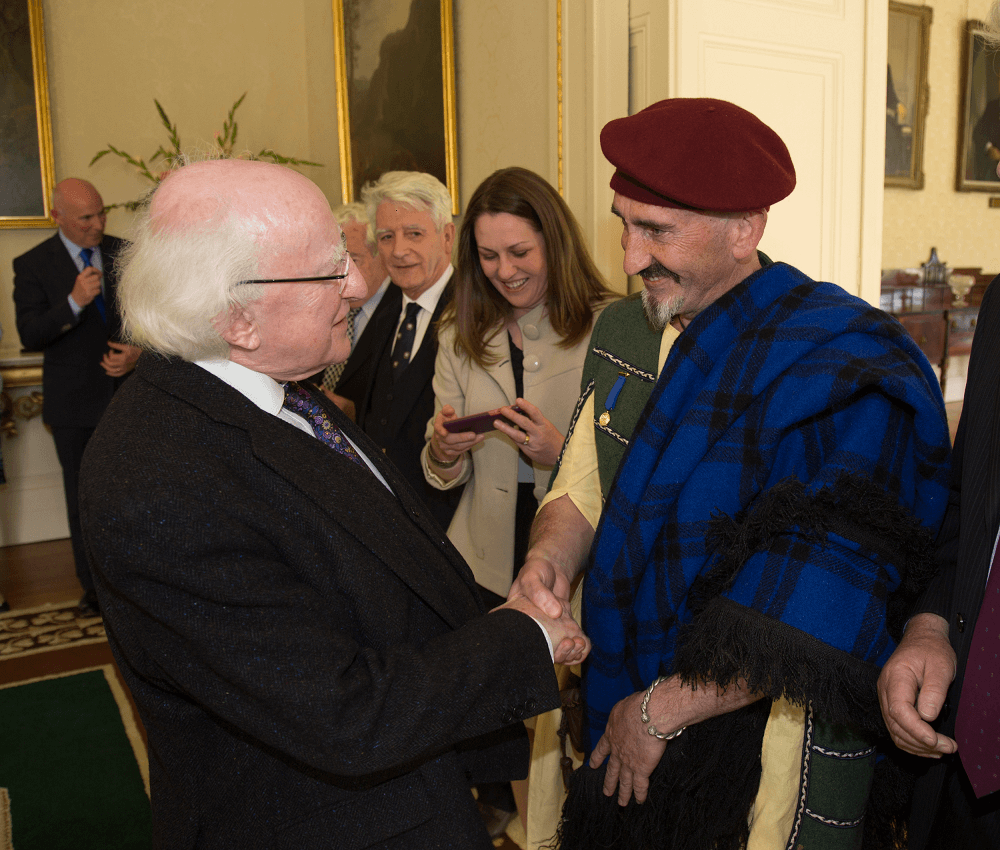 Early references to clothes in Ireland suggest that in addition to their obvious practical purpose, clothes were an indicator of the status of the wearer. "However, early medieval textiles and clothes rarely survived except in very extremely waterlogged conditions", according to the 2010 report 'Early Medieval Settlements and Dwellings in Ireland AD 400 – 1100'. The production of textiles and clothes was largely the responsibility of women in early Irish society. They were expected to be expert in spinning, weaving, sewing and embroidery. Dye was produced from; berries such as blackberries, flowers such as crocus, bark of trees such as wild arbutus, herbs such as madder (rubiaceae), lichens, and shellfish such as dog-whelk.
The basic item of apparel was the léine, originally made of wool but for the majority of its history it was made of linen and dyed a saffron hue by soaking a number of natural colorants including; the boughs, barks and leaves of poplar trees, the bark of wild arbutus, saffron, salt and urine as a mordant or fixing agent. Saffron was used after its introduction after the tenth century, sometimes exclusively and sometimes within the colorant mixture.
The léine had evolved from being a reputedly twenty-five yard long sleeveless tunic; generally at least knee length, until later in medieval times when the wearing of trius came into fashion and the léine was adjusted to a thigh length. Sleeves were also added over time. It was gathered at the waist by a crios or belt.
Over this a brat a heavy wool mantle or blanket was worn tied with a brooch and varying in length depending on social rank, but distinctively longer than similar items of apparel worn in other European countries. In a twelfth century satire, Aislinge Meic Conglinne it is mentioned that the mantle is 'five-folded'. This was the most consistently popular item of clothing worn over many centuries in Ireland. The more variety of colour the more expensive.
The Brat like the snail's shell was considered to be both garment and house, worn as a cloak during the day and used similarly to a contemporary sleeping bag at night. n the head, a person wore a capín, on the feet he or she wore the bróg, but brayes or underwear does not appear to have been worn until at least the 14th. Century.
Our neighbours, the English became interested in all sorts of Italian fashions as a result of a short visit by their friends, the Romans.
Some of the more affluent English adopted baths, underfloor heating and thermal underwear although the Irish and Scottish Celts considered all of these as a passing fad that would not catch on in our mild climate.
Like snails of distinctive population groups, the human inhabitants in medieval Ireland wore distinctive clothing until the 16th. Century, when the use of Gaelic clothing began to decline as the influence of the English monarchy and government spread. The attitude of the Tudor government was to dominate politically and socially. The distinctive length of the Irish léinte was curtailed and the use of saffron, made from the dried stigmas of the autumn crocus, was forbidden in Galway in 1536 and throughout the rest of the country in 1537.
However, woollen weather proof mantles continued to be worn by everyone: Irish, Anglo-Irish, English; adult, child, male and female; wealthy and otherwise. The poor wore lighter unlined versions, while the most popular form was the fringed mantle with tufted or curled nap. The least expensive form was rough undyed fleece.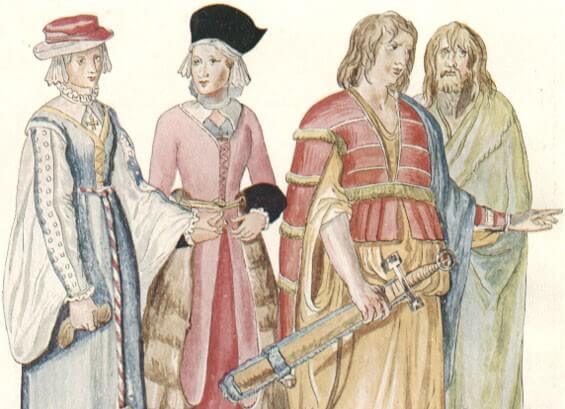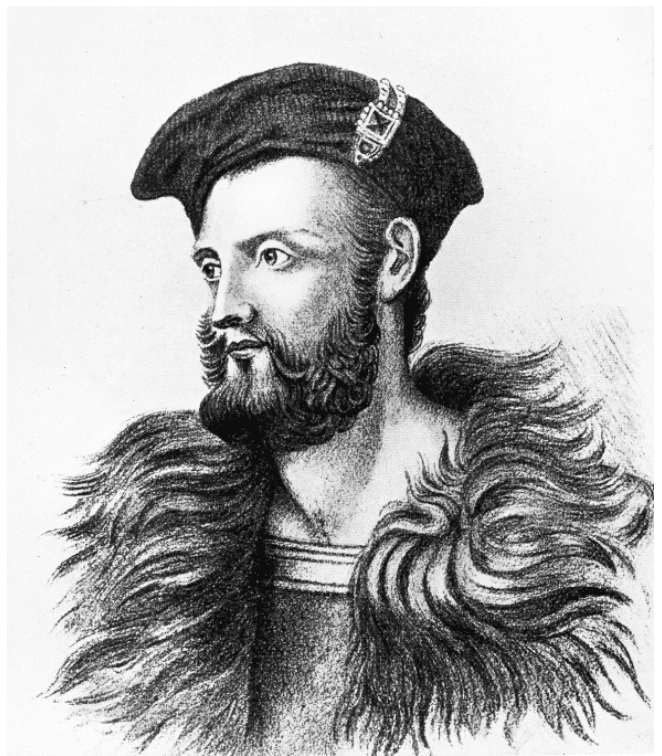 By the seventeenth century some who wished to appear anglified on occasion did so by concealing their mantle fringe and wearing a small cape, thus appearing to wear a makeshift version of a French cloak with a cape. Thus it is concluded that the mantle fringe continued to be a distinguishing feature of the Irish mantle in the seventeenth century. However, by the 1650s it was considered that the Irish were conforming to English dress in general, except for the poor who continued to wear a very basic mantle.
"Throughout the medieval period Ireland produced and exported 'rugg mantles' or fringed woollen mantles with a thick tufted nap which resembled the wool of sheepskin. Although taxed and disparaged by edicts from 1462 onwards, the rugg mantle was exported regularly to Britain and Europe from the 15th to the mid-17th centuries as it satisfied a market demand for a cheap version of the then fashionable fur-lined woollen cloak. It was criticized regularly in Ireland as unhygienic, being worn by day and night, yet being such a warm outfit it remained in use until at least the late 17th century.
It was replaced by another fashion derivative, the home-spun frieze semi-circular cloak."
Mairead Dunlevy
"The aim of the government from the mid-14th to the 17th century was to make Irish people abandon their own dress styles — styles which retained ancestral comparisons with those worn throughout Europe — and to follow the styles favoured by the middle and upper classes of England. Under HENRY VIII there was legislation against the Irish mantle, the use of saffron dye, and the wearing of overly long and full garments.
Government also prohibited gowns embroidered or garnished with silk, decorated with couched embroidery, or with applied jewels 'after the Irish fashion.' The use of strong colours at the time and the heavy demand for paste and other jewellery indicates that gaudy medieval fashions survived in Ireland." Mairead Dunlevy
Proposal
The proposed material to be used for the brat in contemporary 21st century conditions, the authenticity of colour and stitching as well as the provenance of the material are issues which Clans of Ireland has sought to address in a practical way. It is generally agreed that most people are unlikely to wish to wear entirely authentic medieval dress and we recognise that this remains a matter of individual choice, as Clans of Ireland is not proposing such a degree of uniformity that would suggest that each clan was anything other than an individual tribal entity.
Clans of Ireland is simply proposing an expression of pride in that element of our culture relating to Gaelic attire. However, it is not intended that such a manifestation of cultural symbolism should be so authentic that clothes of medieval origin should alone be valid. It is intended that CLANS OF IRELAND members are offered guidance on design, fabric and colour, so that medieval style can be replicated to suit contemporary conditions.
It has been agreed that Clans of Ireland should concentrate on the development of the brat as a symbolic representation of Gaelic clothing. It is felt that most people would be more comfortable wearing modern attire with the addition of the brat and their chiefly or clan insignia. Clans of Ireland recognises that and there is evidence that there are some people who are keen to wear entirely traditional clothes and this is applauded.
Therefore, the policy of Clans of Ireland will be to guide people so that attire that is worn by representatives or Ceannairí of Members of Clans of Ireland is at the very least a valid reproduction of Irish clothing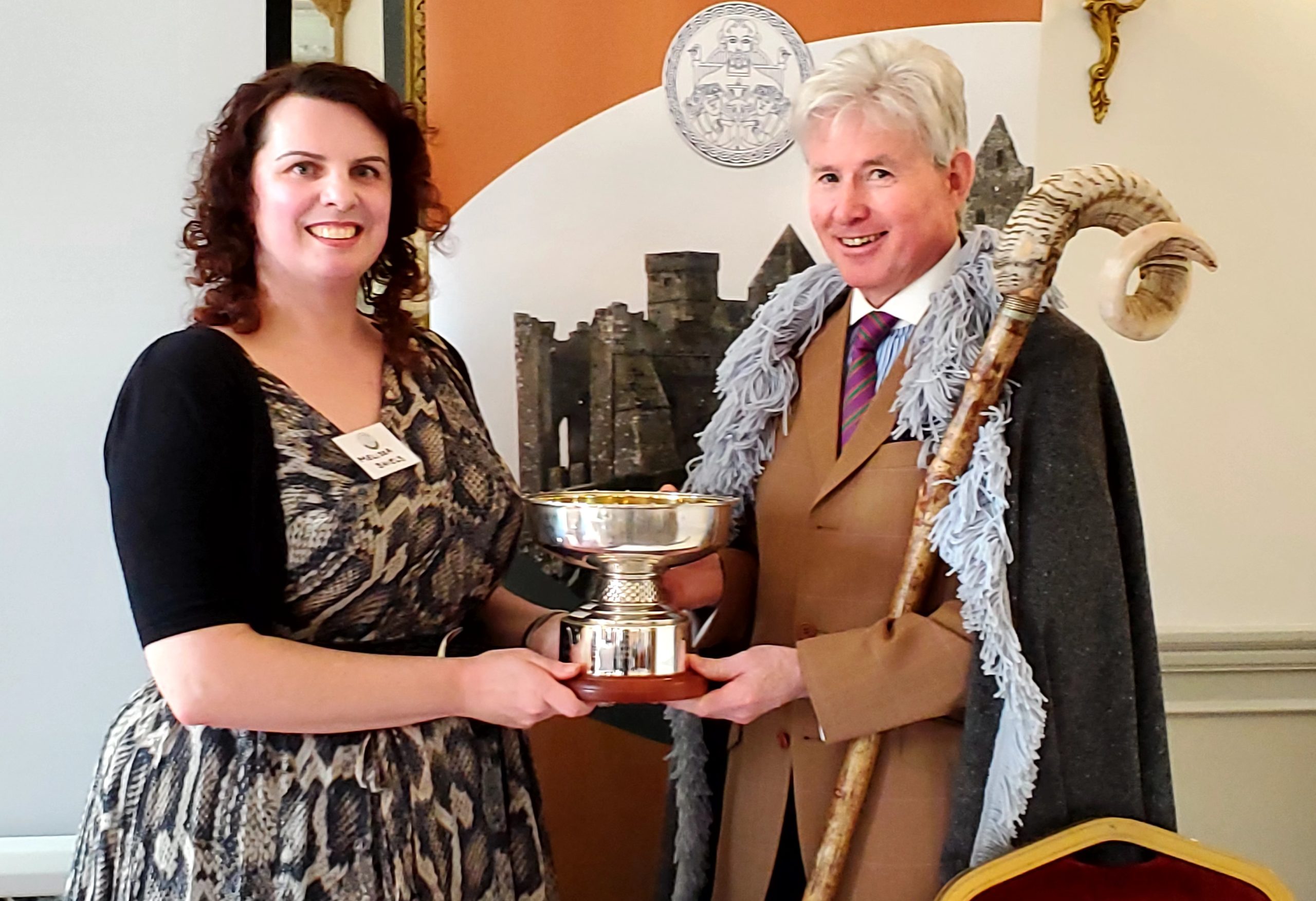 Design
"The brat was the most colourful, versatile and warmest garment in the early Irish wardrobe. It was four cornered, roughly rectangular in shape and being of wool was probably treated or 'fulled' to a dense finish," according to Ms. Dunlevy. The process of fulling was undertaken both to make the material thicker and to rid it of oil dirt and other impurities.
Its early design was that of a blanket, but over time the design appears to have evolved to become a shoulder fitted demi-lune shape cloak. Some brats were fringed with a different colour or colours, some of silver and gold thread. Some were shaggy. Some were embroidered.
In the sixteenth century when fur-lined mantles became the norm throughout Europe, woollen weather-proof mantles evolved in Ireland. The fringe of the tufted mantle were thickened at the neck to give a full collar. According to Sir James Ware, 'Rowes of this shag or fringe were sowed on the upper part of the mantle, partly for ornament and partly to defend the Neck the better from the Cold and along the Edges run a fringe of the same sort of Texture'.
Illustrations suggest that generally the tufted mantle was worn with the curled side innermost. John Lynch wrote in 1662 that 'Threads flow down from its border in various lengths like the fringes which are usually seen hanging from the curtains of a bed. But on the uppermost border of the mantle several folds of those sledges were arranged which by their swelling proportions were at once more ornamental and concentrated more warmth on the open neck'.
Fabric
Wool was always used. Over time the wool became lighter and finer. Twill and herringbone were used regularly. Dunleavy suggests that furs, among other materials which were not mentioned, must have been important. She cites leather cloaks being given to each member of an army as protection during a winter campaign.
Colour
It appears that the majority of brat were of a single colour, but colour denote rank so that those of nobility were striped, checked, variegated or speckled with bold colours including; purple or crimson and green, but blue, black and yellow. For every-day wear and for the poor; dun and grey were used.
Brooches
Originally brooches are thought to have been straight pins made of bone, sometimes with a hole at the head through which a leather lace could be looped. This eventually transformed itself into a bronze pin with a bronze ring mounted and swivelling on the head. A lace could loop from the ring to the tip of the pin to gather the brat securely on the shoulder.
Variations evolved including: the kite brooch, a flap rather than a ring; the penannular brooch, shaped like the letter 'C', around which the pin could slide and lock in place. These in turn merged to become a pseudo-penannular brooch; most famously exemplified in the Tara Brooch.
Manufacturers
Clans of Ireland, its officers or directors do not promote individual commercial enterprises. Where any information in relation to suppliers or manufacturers is communicated, it is categorically imparted on a personal level and no representation is made on behalf of Clans of Ireland as to quality of service or product in any such disclosure.
Conclusion
Throughout the history of Gaelic Ireland the Brat was the distinctive item of apparel for men, women and children, which evoked status, indicated by the length and breadth in addition to fabric quality and colour. Clans of Ireland proposes that the Brat should be seen as a distinctive symbolic item of clothing of Clans of Ireland.
It is obvious that clothing evolved, even if at a snail's pace, in relation to design, fabric and colour. It is therefore suggested that a wool material of individual choice in traditional colours, of either an early rectangular 'blanket' design or later semi-circular cloak, be considered. It is recognised that the wearing of Gaelic attire diminished through the Sixteenth and Seventeenth centuries and that this proposal will generally be embraced for symbolic purposes. However, there are some who may wish to develop further interest in authentic styles or to more fully adopt ancient Irish traditional attire.

Gearóid Ó Ceallaigh.
Sources:
Derrick John, The Image of Ireland with a Discoveries of Woodkarne, Ed. John Small, Adam and Charles Black 1883
Dunleavy, Mairead, 'Dress in Ireland, a History';
Lynch, John, Cambrenis Eversus, Volk.II, Ed. & Trsl. Rev Mathew Kelly, The Celtic Society 1850. P. 203
Mac Niocail, Gearóid, 'Ireland before the Vikings' 1972 (for ranks within early kinship groups pp 49 – 52)
Ó Floinn, Raghnall, 'Irish Bogs Bodies', Archaeology Ireland Vol. 2, No. 3
O'Kelly, M.J. 1958 Proceedings of the Royal Irish Academy 57-138
O'Sullivan, McCormick, Barney, Kinsella and Kerr. 'Early Medieval Settlements and Dwellings in Ireland AD 400 – 1100' Vol. 1, 2010
Petrie, George, The Dublin Philosophical Journal and Scientific Review. Vol 1, 1825
Pinkerton, William, 'The Highland Kilt and Old Irish Dress', Ulster Journal of Archaeology, Volk. 6, 1858
Ware, Sir James, The Antiquities and History of Ireland (1654 – 8) 1705 p.29
Whitfield, Dr. Niamh, 'Irish Art Historical Study in Honour of Peter Harrison'
Gearóid Ó Ceallaigh would like to thank Michael Crowley, O'Crowley of Cork and Cathaoir Ó Tighearnaigh, O'Tierney for their generous contributions.