Silver Anniversary lecture 25/4/15
TOSACH   25ú Aibreán Dé Sathairn / Saturday 25th April 2015

Is mór an onór domsa bheith anseo inniu chun cuidiú le comóradh faoi bhunú na hEagraíochta Finte na hÉireann. Táim fíor-bhuíoch don cathaoirelach Mícheál Mac Aodhagáin as ucht an cuireadh a fuarthas. Bí mé ann ón uair gur seoladh an eagraíocht go déanach san mbliain 1989, mar bhall den bhoird stiúrtha, mar leas-chathaoirleach agus mar eagarthóir ar an nuachtlitir freisin.

It is a great honour for me to be here today to help commemorate the founding of the organization Clans of Ireland. I am very grateful to the chairman Michael Egan for the invitation I received. I was there from the time the organization was launched in 1989, as a member of the board, as vice chairman and editor of the newsletter as well.
Congratulations to all on this silver anniversary!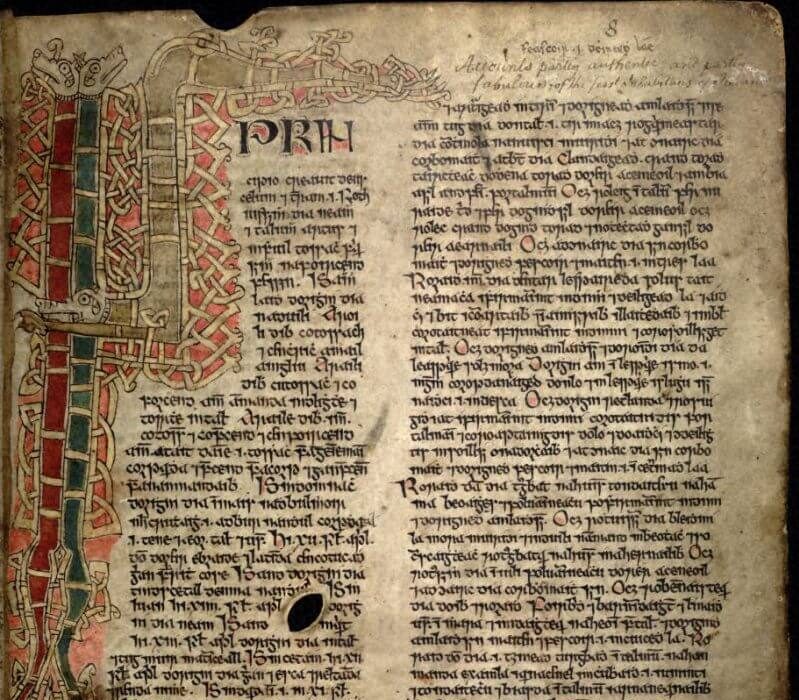 BACKGROUND

Clans of Ireland didn't appear in isolation but was preceded by a long period of development of separate endeavours: In the 1950s there were Gatherings of O'Mahony and O'Malley; In the '50s and '60s Eoin 'Pope' O'Mahony broadcast 'Meet the Clans' on Radio; in the '60s the Butler Society was established; in the '70s Scotland started an International Gathering of Clans; in the '80s organized structures were established for Egan, O'Doherty and O'Connor Kerry – and others as well.

The background for me was that in 1971 my mother had published a book of local history stories 'Stories from O'Dowda Country' and I was roped in to help with the project. While travelling about in the car with her distributing the book I started reading it and got hooked on the historical background of the area around Enniscrone in Co. Sligo and the O'Dowda family history.
I was able to put my scientific studies and skills to good use, and had access to sources in Dublin libraries while a student at university. As the book sold there were consequent visits of O'Dubhda descendants in search of their roots in Ireland. They were usually directed to my mother for information, and I often got roped in as a guide and informant as well.

In 1988, in a conversation with me on the street one day, a local hotel owner had lamented the fact that foreign tourists no longer came to my home place of Enniscrone; I thought: perhaps they might if they were invited – so I decided to organize an O'Dubhda clan gathering. I was to invest a great deal of time, effort and money in the project.
LAUNCH

In 1987, the late Rory O'Connor was elected Chief of O'Connor-Kerry and set out to establish an organisation for all clans of Ireland at home and abroad. After spending two years knocking on doors and writing to national and provincial newspapers he succeeded in getting support and finance leading to the official opening of a Clans of Ireland Office on Monday 6th November 1989. The launch event was televised and publicized in the newspapers.

I had seen a letter from Rory O'Connor in the local press and replied to him outlining my ideas. In response I got a suggested plan for organizing a clan and some other information, as well as an invitation to the launch of Clans of Ireland, which I attended with my mother.
With the help of Mary Nash, Matt McNulty, Paddy Teahon, and others [e.g. Ray Cawley, Michael Gowran, Martin Tully] the Clans of Ireland Office set about the necessary ongoing work of co-ordination and registration of clans aiming to harness the pride of Irish people in their names, families, values and culture.

A voluntary board was recruited under the chairmanship of Rory O'Connor and I was one of those invited, together with representatives of CIE (Vincent Callaghan), Bord Fáilte, the Society of Re-enactors, the Craggaunowen Project and the Hunt Museum. I represented the O'Dubhda Clan and I remember other representatives at different times included James Cavanaugh, Michael Kavanagh, Peter Duffy, Harry Farrell and Éamonn de Búrca.
James Cavanaugh, Michael Kavanagh, Peter Duffy, Harry Farrell and Éamonn de Búrca.
Anne Kavanagh had been hired as Secretary and later became Administrator and was the only paid employee of Clans of Ireland. There was no salary for voluntary board members but Bord Fáilte provided use of their Board Room for meetings. They produced tea and coffee with biscuits as well as copies of 'Discover Ireland' and 'Irish Roots' magazines, and we were once presented with a side of smoked salmon! The salmon impressed my wife!

Speaking of food, I remember that Rory O'Connor used it to represent what he wanted to do with the concept of Clans of Ireland – in his speech at the launch he said he wanted it to address the erosion of our core values as illustrated by hard butter, tasteless chicken, plastic ham, and watery tomatoes! I remember too that one of the items served at the event was freshly cooked crab claws – and this impressed my mother immensely as she loves seafood! They represented the quality of produce that Rory wanted replaced in Irish life.
OFFICE WORK

The work of Clans of Ireland was sometimes FRAUGHT, but generally it was FUN! And although there were no frolics Anne Kavanagh met her future husband through her work in the Clans of Ireland Office!

The office was in a little room upstairs near the Reading Room in the Genealogical Office (Kildare Street, Dublin 2). It was provided by the National Library with the help of Donal Begley and Fergus Gillespie. To get there you had to pass through security and ask the attendant in the Genealogical Office museum display area.
They would telephone for Anne or Fergus to come down and bring you up in the lift. The office eventually had a desk and chair (no seating for visitors!) a telephone, fax, computer and printer.
Clan gatherings provide expatriates and overseas descendants with an excuse to make the effort to travel and revisit their roots in the old country, where they can experience a rich and colourful history and a wide range of cultural activities.
One ambition in the beginning was to have an International Rally of Clans of Ireland at the Hill of Tara – but practical considerations presented unsurmountable difficulties in emulating the Monster Meeting of Daniel O'Connell's Repeal campaign at Tara in 1843. The nearest we came to this was the Irish Homecoming Festival.
There were historical precedents for meetings or rallies – the oireachtas held by a clan to inaugurate a new Taoiseach or chieftain, and the feast held under the sponsorship of a generous Taoiseach to which the Irish scholars, bards and men of learning were invited. The Irish have always had a special regard for learning. The ancient Irish annals record that on several occasions throughout history major public festivals or feasts were held by their patrons in honour of these families.
Among these are mentioned the feast of O'Kelly in 1351, the feast of O'Neill in 1387, and the great double feast of O'Carroll and O'Connor (of Offaly) in 1433. More than 2,700 people attended the feasts on that occasion. The feast of Mac Dermott and Burke was held in 1540, another O'Neill feast in 1577, and other feasts were held by O'Rourke, etc.
IDEALS AND AIMS   [Rory O'Connor, 1989, paraphrased]

The Clans of Ireland project was simply envisaged as the task of harnessing the deeply held feeling of pride, in most Irish people, both here and abroad, in their own names, their own families, their own values, and their own culture. It was never intended to be in any way political, or insular, or xenophobic.

Although there would be considerable tourist and other spin-off possibilities it would help address the erosion of core values of being Irish and help protect universal joy in the homeland. When we are at ease in our own hearts, when we love our ancestral birthplace, when we thrill to our own music and poetry then we are much better fitted to offer something valuable to the outside world, and to receive something valuable in return.

For me, the benefits of attending a clan rally include making contact with your roots. In some cases meeting blood relatives your family had lost contact with. I have met several people from Australia, Canada, England, Scotland, the USA, and Wales; each of whom has found their roots here in Ireland and met with living relatives of their ancestors. It can be a very emotional experience. At the same time clan gatherings have led to ongoing friendships, return visits and the establishment of networks of contacts abroad for people from Ireland.

Organizing the O'Dubhda Clan has been a satisfying experience and a great social success – but a significant financial cost! Still, it has been very enjoyable and a good idea for the local economy. People came to visit, and came again and again and then brought their children and grandchildren, and more recently great-grandchildren! Some people have come from overseas to attend every gathering held since 1990.
IRISH HOMECOMING FESTIVAL
The 1992 Irish Homecoming Festival included a series of clan rallies held at different venues on various dates throughout the country. The final decision about providing funding was very slow in coming and caused a major delay. Another major crisis was caused early in the preparations by a postal strike – there was no great problem getting marketing and publicity material by air to the USA but there was the problem of how to get the list of Clans of Ireland rallies to Australia in time for a marketing campaign which was just about to start there.
Virtually no-one at Bord Fáilte had heard of email then, but I had been using the internet for years by then so I knew what to do! Fortunately, I could type and so transcribed the information on my Apple computer to be sent as an email on the Internet to a contact in Australia via FrEdmail (Free Education Mail, now known as Global Schools Network). He printed it out and sent it to the tourist office there – a bit hectic, but job done, within 24 hours!
The message was sent by modem and telephone from Dublin to Philadelphia, from there to San Diego and finally to Sydney.It was a particularly busy time and I remember helping Anne with sorting of brochures and shells for distribution to various clans around the country. The shells were colour printed sheets provided by Bord Fáilte, onto which individual clans could get their own text added. These could then be folded into leaflets for distribution.
Courier services had to be used at some cost to the budget, and a great sigh of relief was heard when the postal strike ended.
PROBLEMS
Of course there were problems. One of the first targets was the title, whether the term 'clan' was appropriate at all and should the word 'sept' be used instead. Rory O'Connor got into a long paper battle over this and his final exasperated word on the matter in 1995 was that he had spent 5 unpaid years trying to put the clans into the hearts and minds of the Irish people, at home and abroad, and he'd be damned if he was going to spend the next 5 years trying to 'septicise' them!

Some newspaper headlines were no great help either: for example 'Cash-strapped Clans now have funds' as announced in 1994. I never saw any of these funds and, as Rory responded in a letter, we received no direct government money. We were provided with a free room and an office upkept by a Bord Fáilte grant but with little or no money for development, promotion or marketing. In fact, what funding was to be made available only materialized very late on and with barely enough time to plan, organize and execute a campaign.
At least one professional involved in bringing tourists to Ireland from abroad was horrified at this – he said he could guarantee hundreds of visitors, but he needed at least three years advance notice with confirmed details and programmes of events, and he washed his hands of the business. Another serious matter was that whatever funds were to be made available frequently reduced until the final figure received was only a fraction of the original amount promised.
Other problems for the office included changes to planned schedules for clan rallies – like one event being cancelled almost at the last minute, and another changing dates and venue by bringing the event forward four months. Some clan organisers were reluctant to commit to dates and venues – all of this after listings of rallies had been sent out for publicity and marketing abroad. Poor Anne Kavanagh had some furious phone calls to fend with!

One perennial problem was the cost of public liability insurance for individual clans. Some people simply ignored it – I remember hearing of one event where groups of people were ferried around on a trailer pulled by a tractor. I'm sure they never gave insurance a thought but had great fun – thank God they got away with it on the day!

Although weather was never really an issue with foreign visitors, 1997 was a typical Irish summers – cold, wet and windy – visitors were advised to bring a brolly, raincoat, rubber shoes, heavy clothing and warm woolies!!! That was for July – June was the wettest on record for 70 years!
There were administration issues in the Clans Office, reflecting problems met with by individual clans – a fax letter from Anne told me at the end of January about one clan rally being changed from one venue to another many miles away, and it was brought forward by 4 months.
This meant they would have no foreign visitors as they would all have made their booking arrangements by then.  Another clan had to cancel virtually overnight, others were reluctant to commit to venue or dates.
The ideal would be to have firm venue and dates and a programme of planned events three years in advance, or even a year in advance – but achieving this is still problematic.
USING TECHNOLOGY

There had been an earlier 'Write and Invite' campaign by Bord Fáilte, but I do not remember being aware of it at the time I started organizing the O'Dubhda Clan. I was able to use the Minitel system in Ireland to access the telephone directories, an American friend named Dick O'Dowd donated his mailing list dating to the 1970s, and I made use of these with my mother's visitor's book to write to people all over the world announcing the organization and first Rally to be held in Enniscrone.

I made information about Clans of Ireland available by email on the Internet since 1990, and on Internet newsgroups since 1993. I published 9 or 10 issues of an Irish Heritage ezine with updates and other information for several years from then on. The list of clan rallies I obtained from the Clans of Ireland Office was posted and updated four times between February and July in 1995, as in previous years, and an information file was posted on the World Wide Web in the same year. The information available for 1996 clan rallies was also sent out, following a workshop held for registered Clan representatives in Monasterevin Co. Kildare in 1995.

Funding was always a problem and in an attempt to encourage more support the organization was restructured as a charitable foundation. The office was moved to Athy in Co. Kildare, under a new chairman (James Cavanaugh). This was less accessible for me and by this time, apart from working full-time as a teacher, I was lecturing in UCD and DCU on various courses, as well as organizing the O'Dubhda Clan. Something had to go and I felt I had contributed all I could so resigned in 1997.

Conor Mac Hale
(O'Dubhda Clan organiser)